PAL Youth Community Kitchen
May 26th, 2016 by communitykitchens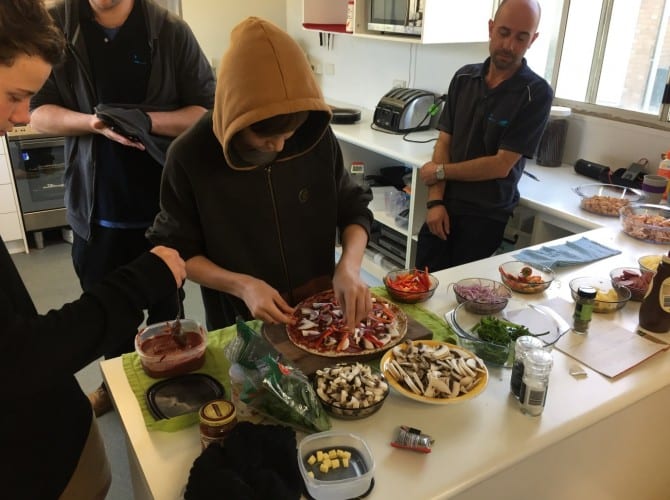 Mornington Peninsula Shire Youth Services and Advance Community College are working together to run a Community Kitchen Program for young people enrolled in the Advance PAL Program. The PAL Program is an educational program which provides approx. 10 students in Years 8 and 9 with specific literacy, numeracy and practical training in an alternative setting.
Once a fortnight on a Friday morning, the Shire runs a breakfast Community Kitchen with students of the PAL Program. This is held at The Corner Youth Centre in Mornington. The Youth Workers and young people plan, prepare and cook and eat breakfast together. Breakfasts so far have included omelettes full of vegetables, pancakes topped with fresh fruit and yoghurt, home-made toasted muesli topped with fresh fruit and yoghurt, fruit platters and fruit smoothies.
Every alternate Friday, the same group of Young People attend a lunch time Community Kitchen at Advance Community College in Mornington. The Young People are involved in menu planning and budgeting, growing and harvesting food from the garden to use in the Kitchen, shopping for ingredients and preparing and cooking food. As part of this session, the Young People cook lunch for themselves as well as for all staff working at Advance.
SecondBite provide both Community Kitchens with some of their fruit and vegetables. The young people are provided with the opportunity to learn about the kinds of fruit and veg that exist, how to prepare and cook them, and what they taste like.
By working in partnership, the young people are provided with an opportunity to regularly come together to learn essential life skills, experiment with food, and have loads of fun. The organisations are also able to share and make best use of time and resources.
There are many good news stories coming out of these two Community Kitchens. Recently a young person who had learnt how to cook healthy pancakes took his newly developed skills home and made pancakes for his whole family.