Chef's Club
June 7th, 2017 by communitykitchens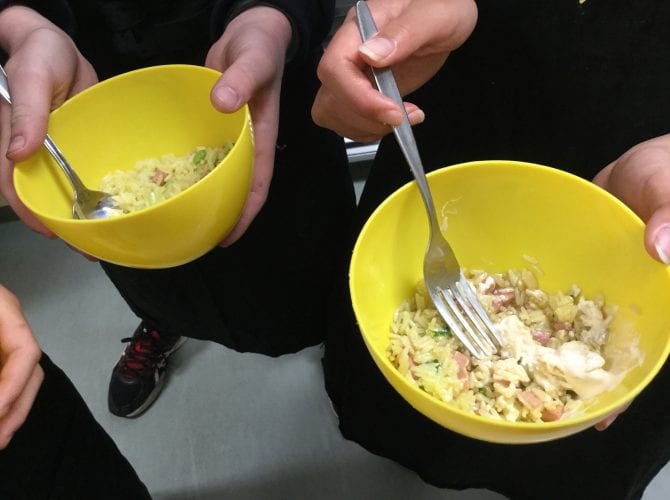 Target Group: Primary School Students
Location: Crib Point Primary School
Day: Wednesday
Time: 11:30 – 1:30pm
Host organisation: Crib Point Primary School
Crib Point Primary School brought together a group of 6 grade 4 boys every Wednesday to trial a 6 month Community Kitchen program. They called their Community Kitchen 'Chef's Club'.
School principal/ Chef's Club Facilitator enabled the boys to take ownership of the group and take it in turns to select a recipe each week. 'It allows the boys to develop more independence, as well as keeps them engaged if they are cooking something that they choose'. Chef's Club also took advantage of the community garden at Crib Point Primary School by picking fresh herbs and vegetables to use in there cooking. At one stage they even had chickens which supplied the Kitchen with eggs!
Over the length of the Program the boys learnt valuable lifelong skills, such as greater knife handling and chopping techniques, learnt about growing foods and even had a list of new recipes that could cook at home. One thing that surprised the Chef's Club Facilitator about the Community Kitchen program was how excited the boys were to cook! They would eagerly be waiting for her to pick them up from class every Wednesday. During the 6 months together the participants of the Chef's Clubs cooked and shared many meals together but according to the Chef's Club Facilitator their favourite was the homemade pizza.
With the success of the initiative, the participants and school council have decided to continue running the Community Kitchen Program. During the next term the Chef's Club Facilitator will continue to build on their existing Community Kitchen program and take a group of new students through the program. While the first group emphasized on skill building and recipe planning, this group will also focus on confidence in the kitchen and teamwork skills.