Kids in the Kitchen
June 6th, 2017 by communitykitchens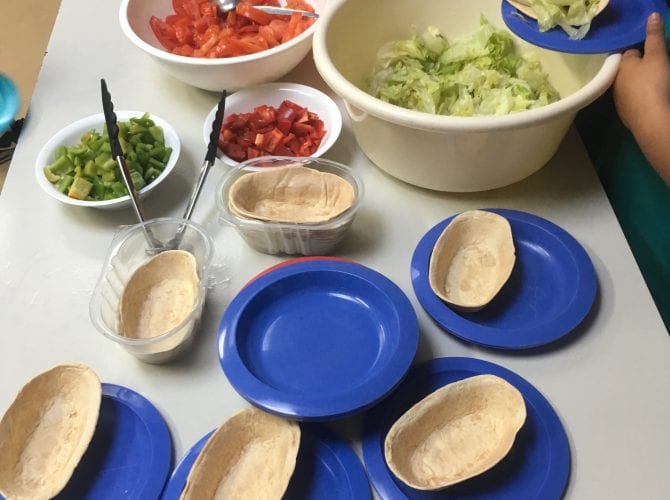 Target Group: Students and their parents
Location: Wallaroo Primary School
Day: Tuesday
Time: 3.15pm-4:30pm
Host organisation:  Wallaroo Community House in partnership with the Wallaroo Primary School
Every Tuesday afternoon at Wallaroo Primary School a group of around 25 students and 6 parents come together to participate in a Community Kitchen Program. The group which is known as 'Kids in the Kitchen' is facilitated by a couple of staff members from Good Shepherd Australia New Zealand (GSANZ is part of a world-wide not for profit organisation) and sometimes receives volunteer assistance from parents. Kids in the Kitchen is inclusive to all students from Wallaroo Primary School and sees a range of children from all year levels coming together to get involved.
The group receives food donations from SecondBite, and utilizes foods grown as part of the school Community Garden Program. Based on what they have received and sourced the Kids in the Kitchen Facilitator picks a recipe for the group to cook.
Before preparing the meal the students will normally help themselves to some fruit (provided by SecondBite) while having a chat with friends. The Kids in the Kitchen Facilitator will then pick a few students at a time to join her in the kitchen. While these children are working together to prepare a particular part of the recipe, the others continue to play and socialize in the community room adjacent to the kitchen. There are lots of games and activities provided to keep them entertained. Slowly all students are bought in to the Kitchen to help prepare the recipe until all students have had a go.
It's now time to eat! Patiently waiting in a line at the door, students will take it in turns to grab a bite to eat, which is helped served by some of the older grade 6 students.
As a result of the Community Kitchens program the students involved have learnt many handy kitchens skills. Some students even said they loved to help with the cooking at home.