Karingal Masterchefs
May 2nd, 2017 by communitykitchens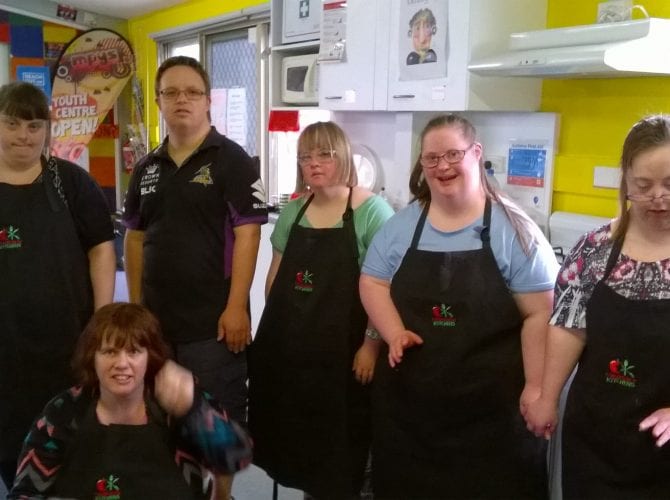 Target Group: Karingal Services – Clients with a disability
Location: Shed 11 Youth Centre, Hastings
Day: Friday (weekly)
Time: 9am-3pm
Host organization: Shed 11 Hastings – Mornington Peninsula Youth Services
Every Friday at Shed 11 Youth Centre, a group of 6 Karingal clients, also known as the Karingal MasterChef's, meet up for their Community Kitchens session, which has become a part of their weekly program since January 2017. The Community Kitchen is facilitated by a Karingal staff member.
The Community Kitchen group meet at Shed 11 in the morning to look through some recipes. Once they have chosen what they would like to cook the Karingal MasterChef's take a stroll together down to the local shops to pick up all of the ingredients they need. After they return to Shed 11 they have a quick morning tea and then get cooking! Everyone gets involved in helping to prepare the meal. Once all the cooking is complete the group sit down to enjoy lunch together.
One of the unique features about this group is that they have also incorporated a gardening project as part of their weekly Community Kitchen. After lunch, the group spends the afternoon working on restoring and maintaining the vegetable and herb garden at Shed 11. Some of the things they currently have growing include tomatoes, carrots, chives and a variety of fresh herbs. The Karingal staff member has expressed that the garden supports participant's knowledge and skills in growing their own food, and also cuts down ingredient costs for the Community Kitchen.
The group says that they really enjoy partaking in the Community Kitchen's program and like learning how to cook new things. Some of the group's favorite recipes so far have been smoked cod with fresh salad, a chicken stir-fry, souvlaki and their occasional BBQ's in the park across the road!