Langwarrin Men's Shed
March 1st, 2017 by communitykitchens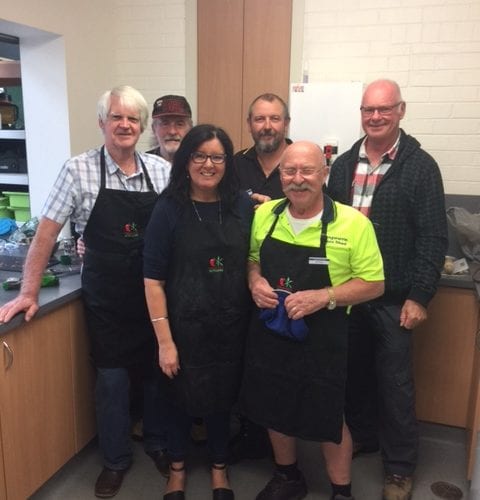 Langwarrin Men's Shed Community Kitchen
Target Group: Men attending the Langwarrin Men's Shed
Location: Langwarrin
Day: Once a week
Time: 2 hours
Host organization: Langwarrin Men's Shed

The Langwarrin Men's Sheds first Community Kitchen took place in June 2016. With the assistance of a volunteer, 6 men attend the Men's Shed on a weekly basis to plan, prepare and share a healthy meal. Each week the men give a small financial contribution to 2 of the Community Kitchen members whom visit the supermarket and buy the ingredients needed for the week's chosen recipe. The group then prepares and cooks the meal before sitting down to eat. After they eat, the group selects a recipe to cook in the following week. The recipes are sometimes chosen from the Community Kitchen Recipe Book, or sometimes it is a recipe that one of the members has bought in from home. The group often likes to make recipes that they may not have the confidence to try on their own, so these sessions have been a great way for members to experiment with new recipes.
One of the group's highlights has been their end of year Christmas lunch in 2016, where they used left over money from their Community Kitchen kitty to cook up a traditional Christmas meal. They cooked a mini roast turkey, plenty of vegetables and a healthy spin on the Christmas pudding – mini steamed puddings!
The men say that they are learning new skills, tips and tricks which have increased their confidence in the kitchen and they are often using them at home. Members have also expressed that they love the social aspect of being involved in the Community Kitchen.