MiLife Victoria – Community Kitchen
November 14th, 2017 by communitykitchens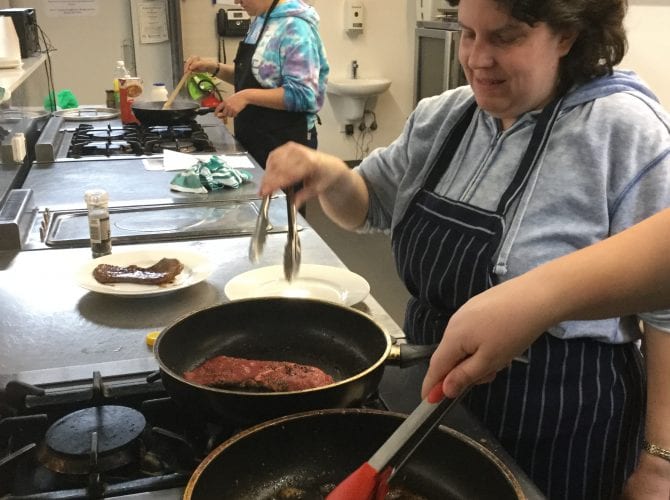 Target Group: Clients living with a disability
Location:  High Street, Frankston
Day: Thursday
Time: 1pm- 3pm
Host organisation: Brotherhood of St Laurence
MiLife Victoria Community Kitchens group is one of the longest lasting and first Community Kitchens. They started up in Frankston, Australia, over 10 years ago!
The group has a strong partnership with the Brotherhood of St Laurence in Frankston, who allow the group to use their kitchen space and herb garden for their cooking.
The first session of each term is set up as a planning day. The group meets at the Frankston library and uses the computers and recipe books available to choose recipes for the whole term. The Group Leader Sandra encourages all participants to pick at least one recipe each they would like to make.
For the remainder of the term the group meets at the library every Monday with their selected recipe for the day, and together estimate how much it will cost to cook the recipe. They then go to the local Supermarket to purchase the ingredients together. This gives participants the opportunity to plan and budget for their meal and improves their literacy and numeracy skills. Each participant contributes $6 every week to cover the costs of the ingredients.
After shopping, the group goes back to the kitchen at the Brotherhood of St Laurence and tasks are delegated evenly among all participants to encourage involvement in all aspects of the meal preparation including cutting ingredients to cooking and cleaning. The group will quite often make a main and dessert.
Community Kitchens are safe and fun places for people in the community to learn how to cook healthy meals, and develop new friendships. Two members of the MiLife Victoria Community Kitchens group mentioned that they met at the Community Kitchen and are now best friends!
Sandra believes that the Community Kitchens program is great because not only do participants learn how to cook healthy meals, they also learn about food hygiene and safety, and valuable life skills like budgeting for food.