St Helens Neighbourhood House Cooking Club
November 28th, 2017 by communitykitchens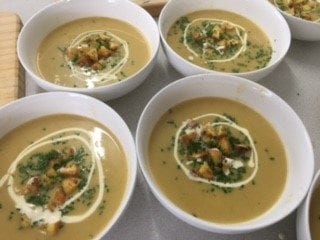 Target Group: 18+
Location: St Helens Neighbourhood House- Tasmania
Day: Every Wednesday morning
Time: 10.30 am
Host organisation: ST Helens Neighbourhood House
Established early 2014, our group meets Wednesdays at 10.30am at Neighbourhood House in the Bungalow kitchen area located at rear of Neighbourhood Main House. Made up of like-minded people, our aim is for members to hone their cooking skills, learn more about herbs and spices; learn how to cook nutritious meals on a budget; how to prepare ingredients and to share their favourite recipes and meals ideas with the group, but more importantly to enjoy the experience together.
Other useful things that the group has learnt from participating in the program include health and safety tips for cooking and kitchen area, cooking with complex ingredients and lots of new recipes.
The group which is inclusive and welcomes any new members is made up of equal numbers of men and women. Huge camaraderie has been built within the group with lots of fun and interaction during the cooking and preparation process. We also have a train the trainer program whereby we trained up 4 coordinators and in turn they have trained new coordinators to ensure the kitchen does not 'fall over' and is not reliant on one or two people to run.
Planning meetings are scheduled every 5-6 weeks giving members the opportunity to have their favourite dish prepared, or to try something a bit different or more challenging in the coming weeks. Weekly meals are usually a soup/entrée and main, or main and dessert. The ideas put forward at the planning meetings are then scheduled week by week. Three or four members meet on the Wednesday morning to purchase the ingredients needed for that day's menu. Much of the food items are locally bought, but where possible, members regularly bring in their own fresh, organic produce to use or even utilize the garden bed at the House has which is maintained by two members of the group.
Each chore, whether chopping, shopping, cleaning or setting up tables is shared equally.
The group forms into smaller clusters to prepare a component of the menu. When cooking is completed members dine together to discuss the success or otherwise of the days efforts, whether the costs were within budget, the shopping list for next week's menu along with who is able to bring in fresh ingredients from home; and finally how each component of next week's menu is to be delegated.
All work is carried out under the supervision of our coordinators and full food health and safety guidelines are adhered to.