Healthy Habits
May 17th, 2016 by communitykitchens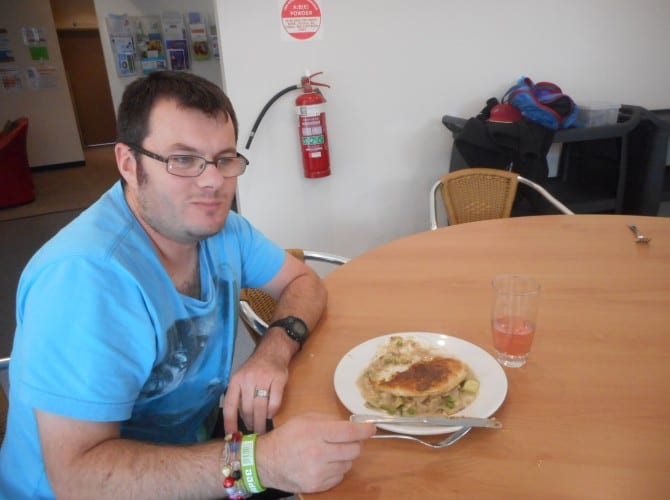 Healthy Habits is a Community Kitchen that has been running for nearly 3 years out of Bentons Square Community Centre in Mornington. It is run by Karingal staff for clients accessing their services. Karingal is a not-for-profit organisation that was established to improve the quality of life for people with a disability.
The Healthy Habits Community Kitchen runs every Tuesday morning with the exception of school holidays. On arrival at the Community Centre, the x2 group leaders (Karingal staff) walk with the group to the supermarket which is just across the road. The participants and shopping list are split into x2 groups, and in their smaller groups walk around the supermarket collecting the ingredients they need for the cooking session. Participants work together, with the group leaders support, to ensure their shopping stays within budget (each participant contributes $5.00 to cover the cost of the ingredients).
The group take the ingredients back to the Community Centre where they work together to prepare and cook the meal. The group leaders ask participants what tasks they would like to complete and help them when needed.
When picking recipes, the group try to find ones that are relatively quick to make (as they only have the Kitchen facility available for 1.5 hours), have a range of tasks available, fit within budget and are healthy.
Once the meal is cooked, one or two of the participants set the table and the group sit down to share the meal. Any left overs are packed into take away containers and taken home by participants.
Involvement in the Healthy Habits program provides Karingal clients with essential life skills including finding and choosing recipes, shopping, preparing and cooking food. One of the participants lives independently and at home receives frozen meals that he can microwave. He particularly enjoys the experience of preparing, cooking and eating a freshly cooked meal. Sitting down together over a meal also provides them with an opportunity for social connection.